Reflections 2023-2024 Theme, "I am Hopeful Because..."
About

National PTA has a long-standing commitment to arts education. The Reflections program provides opportunities for recognition and access to the arts which boost student confidence and success in the arts and in life. Each year, over 300,000 students in Pre-K through Grade 12 create original works of art in response to a student-selected theme. This 50+ year-old program helps them explore their own thoughts, feelings and ideas, develop artistic literacy, increase confidence and find a love for learning that will help them become more successful in school and in life.
Students participate in the appropriate division for their grade: Primary (Pre-K - Grade 2), Intermediate (Grades 3-5), Middle School (Grades 6-8), High School (Grades 9-12), Special Artist (All grades welcome). If a student attends a school that does not sponsor the National PTA Reflections Program or if the student is part of a homeschool or virtual classroom, they may join any local PTA/PTSA in their area to submit an entry. A selection of entries will then be advanced to the nearest County Council for judging. For more information on local units please email [email protected].
x
Students submit their completed works of art in one or all of the available arts categories: Dance Choreography, Film Production, Literature, Music Composition, Photography, Visual Arts.
x
Please register your Reflections Program with National PTA HERE. Let National PTA know you are participating in the Reflections through your PTA! Your registration helps National PTA show the reach and impact of the program. Registration is open until Feb. 1, 2024. Please note: Due to the large volume of registrants you will not receive email confirmation.
Please provide HCCPTA Reflections Chair with your local unit Reflections Chair contact information
HERE
.
(Note - this is NOT the digital intake form, this form is ONLY to provide us your contact information.)
If you have questions, please reach out our HCCPTA Reflections Chair at [email protected]
How to Submit Reflections Entries (due November 17, 2023)
1. Digital Submissions:
.

.
Reflections Chairs

- please send an email to [email protected] confirming you have completed your digital uploads

and

also attach

Form A and Form B

. Remember both forms provide a summary of what your local unit has done for its Reflections Program.

.
.
2. In-Person Intake:
11/11 12-2pm Starbucks 14394 N Dale Mabry Hwy Ste 10 Tampa, FL 33618 (Jenny Mun)
11/14 6-8pm Panera 3460 Lithia Pinecrest Rd. Valrico, FL 33596 (Kimberly McDonough)
11/17 5-7pm Starbucks 14394 N Dale Mabry Hwy Ste 10 Tampa, FL 33618 (Jenny Mun)
**If you are doing in-person intake for those categories that have a video, music file, or similar please bring the submission on a thumb drive.**
x
Local Unit Reflections Chair Successful Submission List
Completed Student Entry form.
Digital Student Artwork in the correct format (or dropped off at in-person intake).
Form A and Form B completed by Reflections Chair and emailed to [email protected].
Submission Deadline Date
November 17, 2023, is this year's submission deadline date to Hillsborough County Council. Reflections Chairs will submit the top three entries in each category either digitally or at an in-person intake. The in-person intake is for those that need support and would like to submit art for the gallery display and awards.
National PTA Reflections Video
Learn more about National PTA Reflections program!
More Resources For Local Unit Reflections Chair
For more resources for Local Chairs on the PTA Reflections Program, please visit any of these websites:
HCCPTA also has all of the guidelines for each category below and the application for entry. The documents are available in English and in Spanish.
Reflections Guidelines & Entry Form - English
Reflections Guidelines & Entry Form - Spanish
2023-2024 Reflections Theme Search
The National PTA is currently seeking a theme for the 2025-2026 Reflections program year. Students interested in submitting a theme idea should complete the form below

and

submit to the Florida State PTA by

Nov.

1

, 2023

.

For details, see the Theme Search Form below.
Theme search form may be submitted via email to

[email protected]

.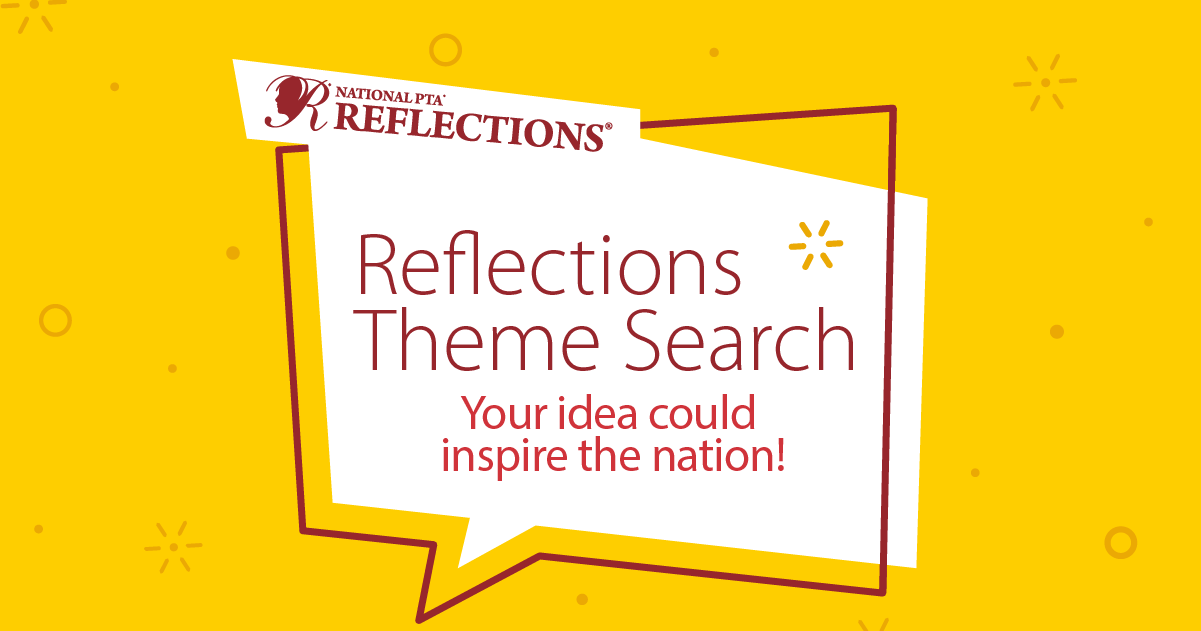 Thank you!
Reflections Theme Search Form