All local units are governed under Florida PTA and National PTA guidelines. The purpose of the guidelines are to protect you and your board from costly mistakes as a non-profit. The majority of these compliance items are required by the IRS for all 501(c)3 non-profit organizations. Hillsborough County Council, Florida PTA, and National PTA are here to support and guide you with the best practices and policies to ensure that all communications and actions align with National PTA's vision, mission, values, and policies and comply with applicable federal and state laws. Please make sure your contact information is up to date in Memberhub so you do not miss out on any important updates.
Monthly/Annual Dues
Remember that you must pay your unit's State Monthly Membership Dues through your MemberHub site or via check with a MEMBERSHIP DUES PAYMENT FORM, on a monthly basis every month memberships are sold.
Your Annual County Dues are due once a year by October 1, paid by credit card at our Memberhub Store or by check through the mail to: HCCPTA - Membership Dues, PO Box 273324, Tampa, FL 33688.
To be considered active with Florida PTA - units must pay for at least 10 members.
If you are past due, and are planning on participating in a program such as Reflections, or applying for a grant or award, you must make payment asap to bring your unit back into compliance or you will be ineligible.
Bylaws
Florida PTA has updated the bylaw template for all local units in 2022. If you have not submitted updated bylaws this school year, please do so now. The Florida PTA bylaw template includes changes allowing virtual meetings and also less restriction of VP positions. Bylaws MUST be updated at a minimum of every 3 years to remain in compliance, but should be reviewed annually and updated when the state updates the template, so that your unit is able to function to the best of its ability. The fillable online form is available HERE. For more information on Bylaws and Standing Rules, please go HERE.
Current Officer/Chair Information
Remember that you need to update your Officer/Chair information with FLPTA by July 1.
This is a two-step process.
First complete the Florida PTA online form at www.floridapta.org/new-or-returning-officers-form

Then update your Officers AND CHAIRS in Memberhub.
**Please note**: YOUR OFFICER INFORMATION MUST ALWAYS BE CURRENT AS REQUIRED BY THE IRS GUIDELINES. If your Officers change outside of your normal election timeframe, YOU MUST SUBMIT a Change of Officers Form with Florida PTA.
Annual Audit
The PTA Audit Form has been updated and is ready for use. Annual Audits are due to Florida PTA by August 31st. Fax, mail or email to: [email protected]. You can find the new 2022 Audit Form, as well as other Compliance requirement information by visiting this link: https://floridapta.org/local-unit-compliance/.

Tax Filing
All local units must submit a copy of your IRS 990 Form (990N, 990EZ, or 990). The filing of an IRS 990 form is a compliance requirement that must be submitted every year. Please email a copy of your completed 990 to: [email protected] once you have completed it. WE HIGHLY RECOMMEND YOU COMPLETE YOUR IRS 990 FORM AS SOON AS YOUR AUDIT IS COMPLETED.
If you are filing a 990N (e-postcard) then here is what must be submitted to FLPTA: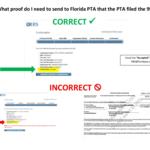 If you are filing any other 990 form then you must submit a copy of the 990 form and all schedules to Florida PTA. As of 2021, all 990 forms must be submitted electronically so you may also include the email receipt that it was accepted.
Click here to file a 990N (e-postcard).
Click here to find an approved IRS Modernized e-File (MeF) Business Providers.