Advocacy Information
Florida PTA Legislative Conference 2020

Registration is now open!
Sunday, January 26, 2020
LegCon "Kickoff": 5:30 PM – 8 PM
TCC Center for Innovation / 300 W. Pensacola St. / Tallahassee, FL 32301
Dinner (dinner provided) and pre-brief training. Join us as we have a discussion on the LegCon agenda and overview and offer legislative updates. Dress: Casual and comfortable. Feel free to wear your favorite TEAM jersey or shirt.
Monday, January 27, 2020
LegCon "Game Day"
8 AM – 1 PM. Guest speakers and legislative trainings. Dress: Business.
12:45 – 1 PM: Group photo and Grab & Go lunch (lunch provided)
1 PM – 5:30 PM: "Halftime": Attendees are encouraged to schedule meetings or attend committee meetings. Tours will be offered as "Practice Drills" from 2-3 PM. You can register for a tour during the registration process.
5:30 PM – 7 PM: LegCon "Tailgate Party". Join us for dinner and a breakdown of game plans (talking points) for Hill Day, with a "How to Meet With Your Legislator" training. Dress: Casual and comfortable.
Tuesday, January 28, 2020
LegCon "Game On!"
8 AM – 4 PM: Ready. Set. Legislate! Attendees are encouraged to divide and conquer. Try to schedule meetings with legislators, attend committee meetings, and drop off a folder or contact information with legislators you are unable to schedule an appointment with. Dress: Business/professional.
Monday speakers and trainings include:

(subject to change) Speakers: Senator Powell, Students from Children's Trust, Beatriz Martinez-Penalver – Triumph Steps, Zac; MSD Commission, Florida Department of Education Chancellor Jacob Oliva – Standards
Legislative Conference "LegCon" Webinars:
November 12th at 8pm: LegCon Game Plan

: Topics will include who and how to make contact to schedule meetings, the importance of scheduling a pre-meeting at home, Legislative Priority Brochure, Action Items and more!
January 7th at 8pm: LegCon for Rookies and Starters:

Join us for an inside look and what to expect at LegCon.
Webinar access information:
Dial-in number (US): (515) 604-9552
Access code: 588588#
Online meeting ID: legislation5
What comes to mind when you hear the word advocacy?
Did you know that PTA is the largest and oldest advocacy group for children? We are 50,000+ strong in Hillsborough County. With over 4 million members nationally we are a strong voice.
If YOU have a passion and a voice! This passion gives you the power and courage to speak up on behalf of your child, family and school. Every Child. One Voice.
How do you start advocating? Be a voice, get active. If you see an issue be it a safe walking route, bullying, any issue you see that needs to be addressed, speak up and Join your PTA.
How do I know what issues my school may need to address? Your Principal and PTA are your resources. PTA's are an active partner with our schools and know what is happening on your campus. Remember advocacy knows no time. You jump in and get it done. That's what PTA does. Remember like minds and many hands make light work. Chances are if you see a need so do others. Bring them together and decide on a plan of action.
What does a plan of action look like? It identifies the issue, what needs to be changed, how it might be changed and who can make those changes happen. Always be prepared with the facts and ideas for what might help. If you need to move up the chain, gather support along the way.
Think team. Parents, educators and others in the community all want what is best for our children.
Your PTA President, County Council PTA, Florida PTA and National PTA are there to support and help you anyway we can. We do not stand alone when advocating for our children we stand PTA Strong.
Florida PTA Current Position Statements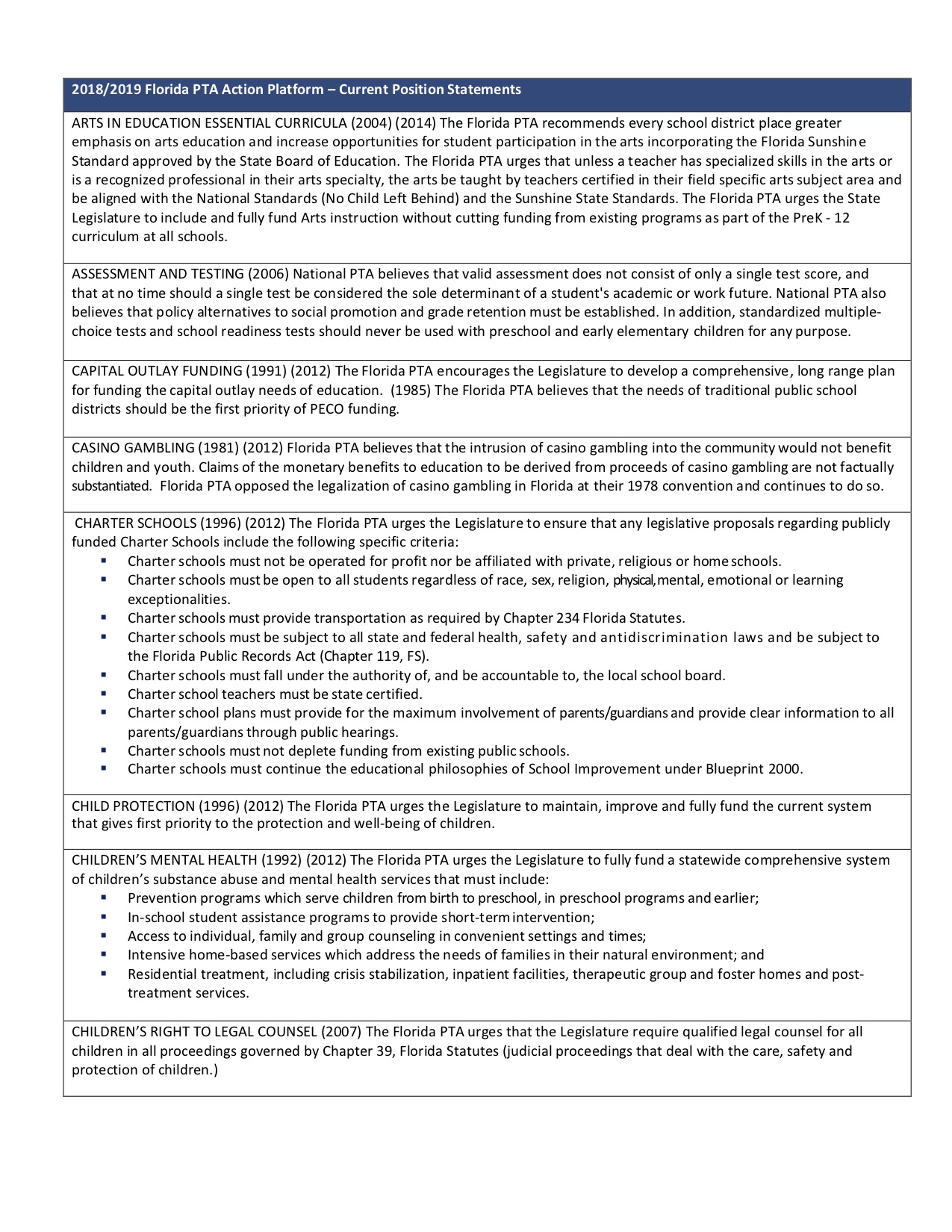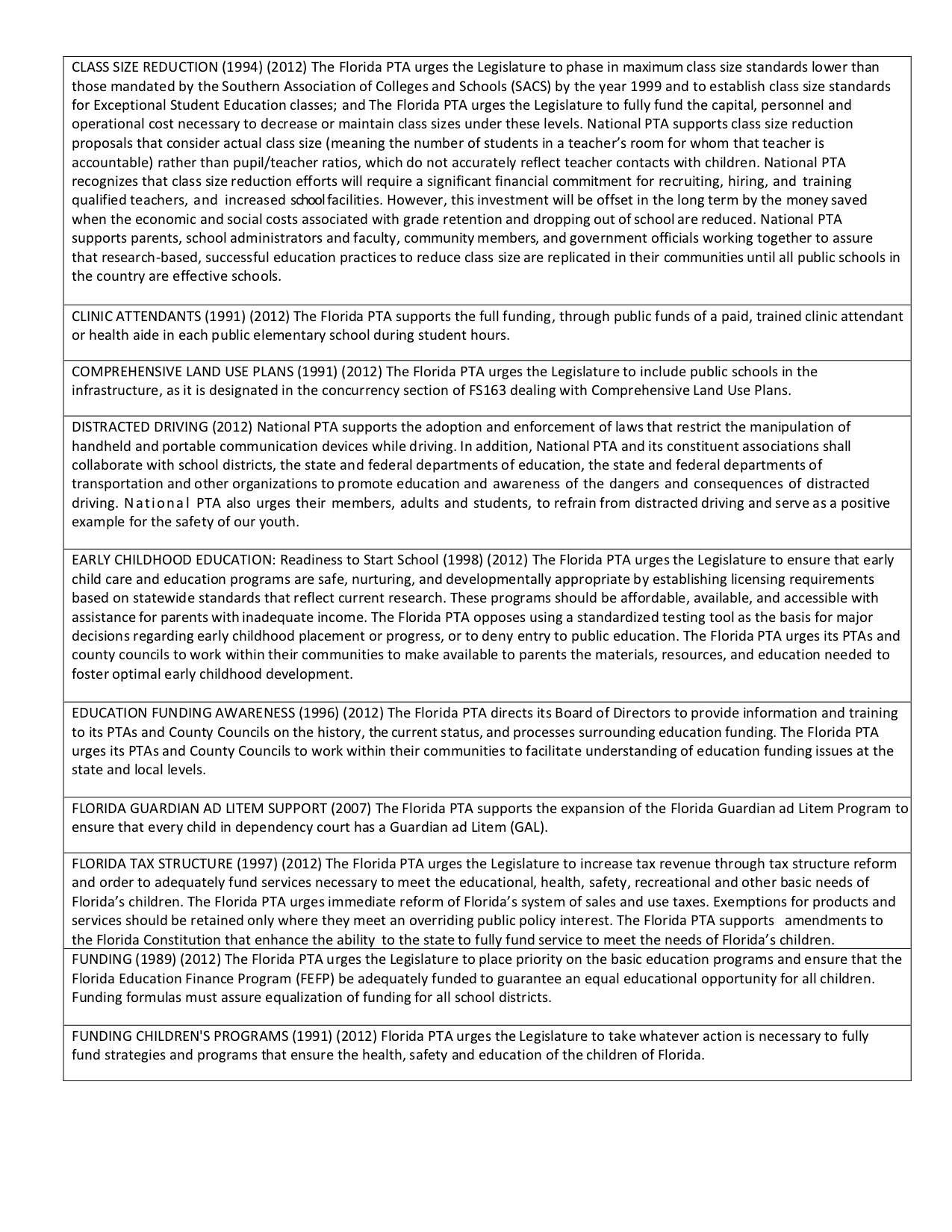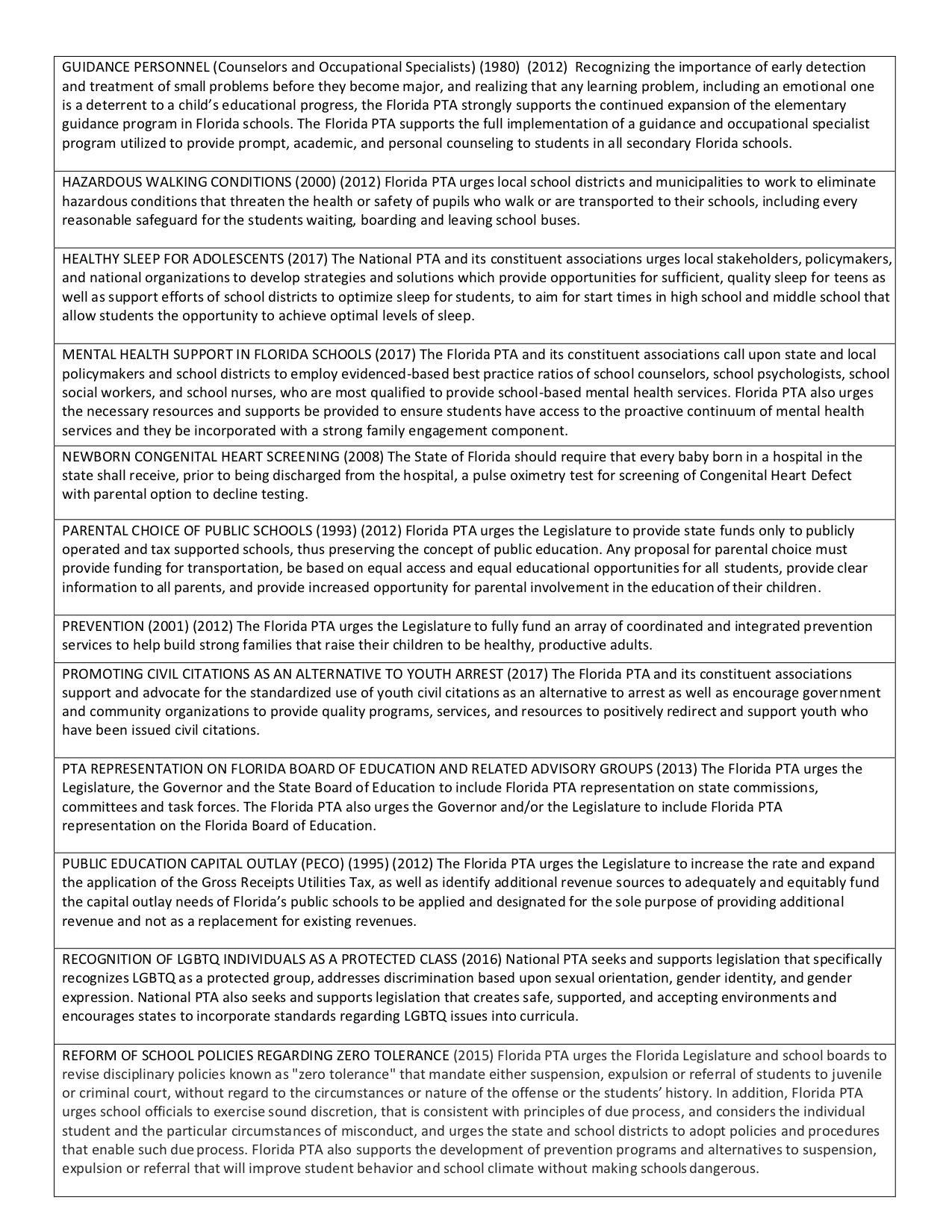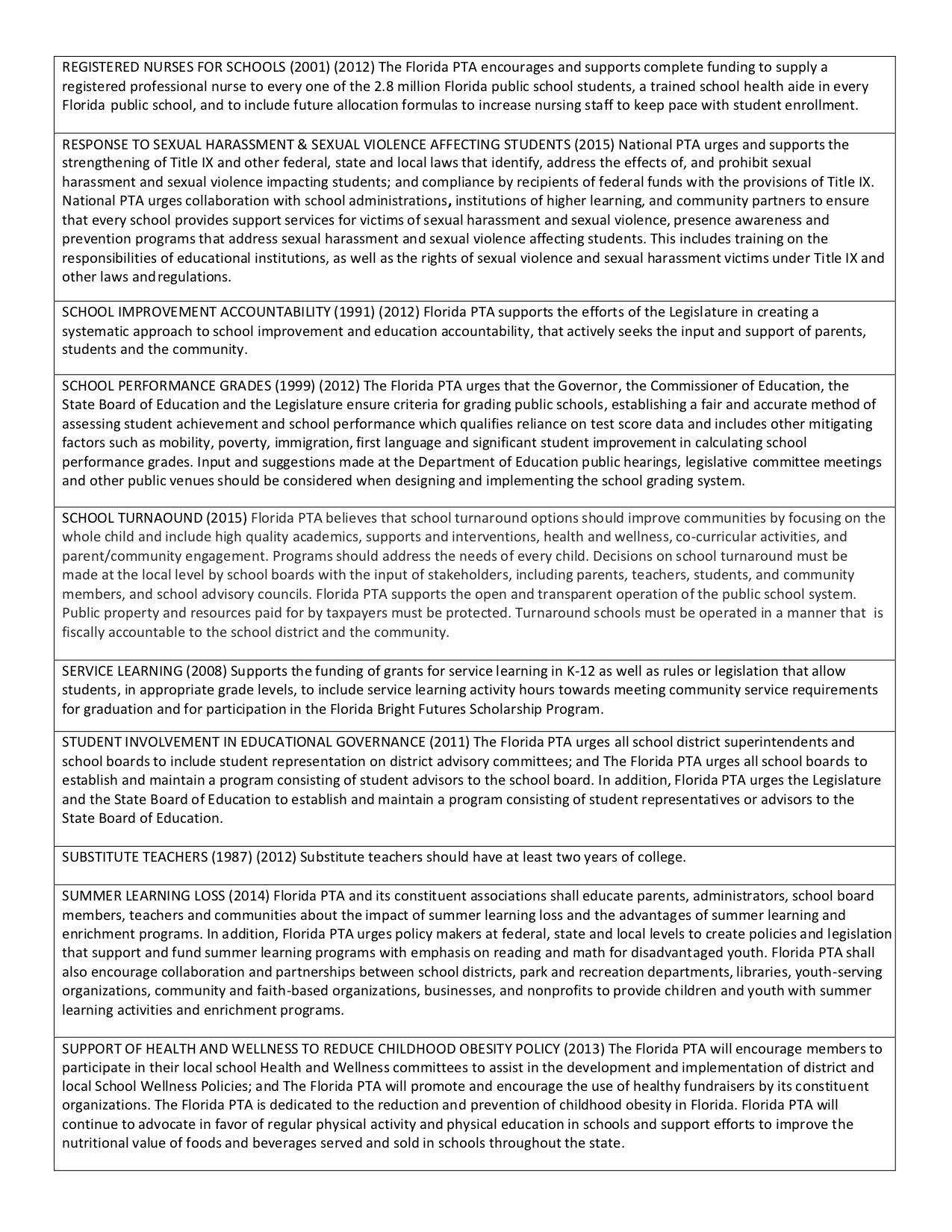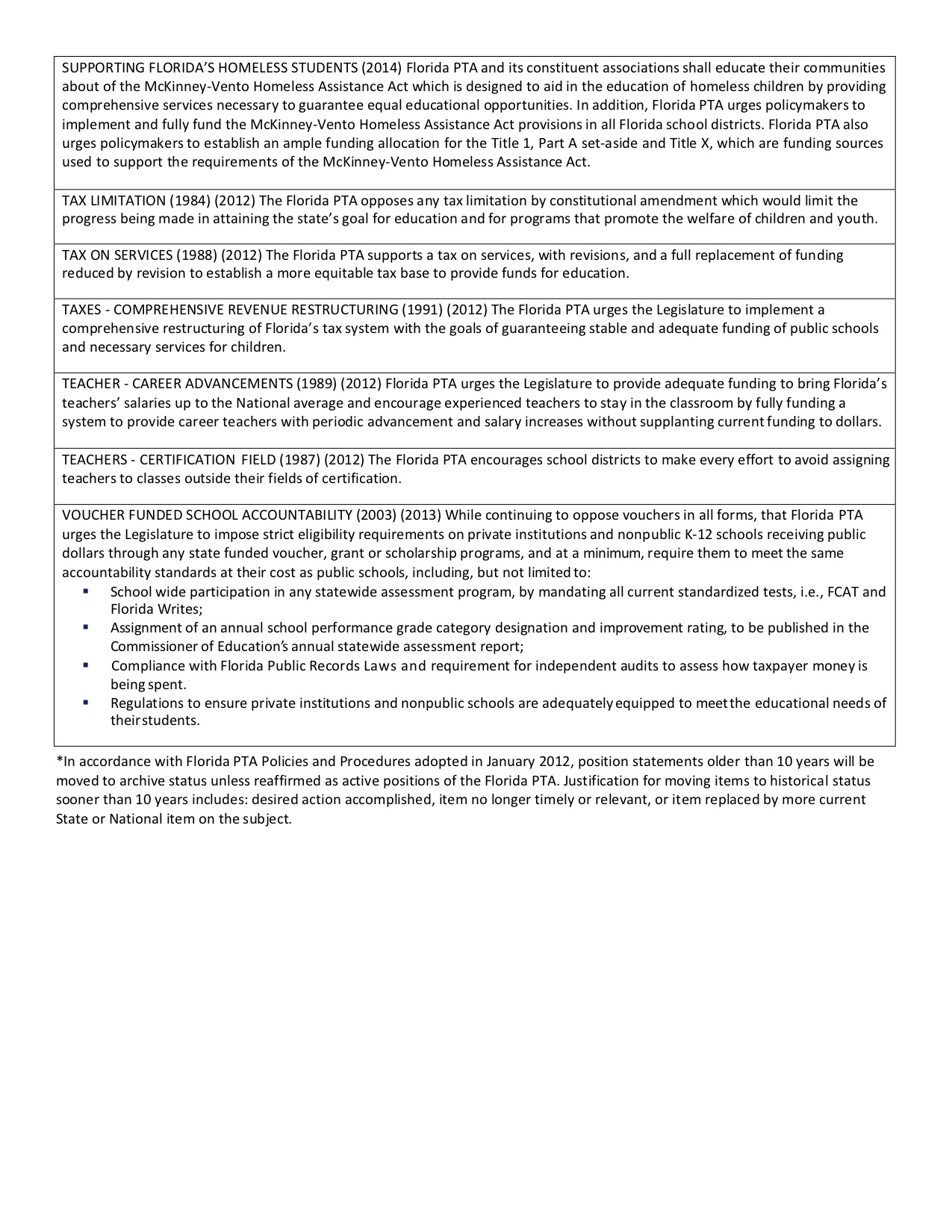 Florida PTA Legislative Priorities Brochure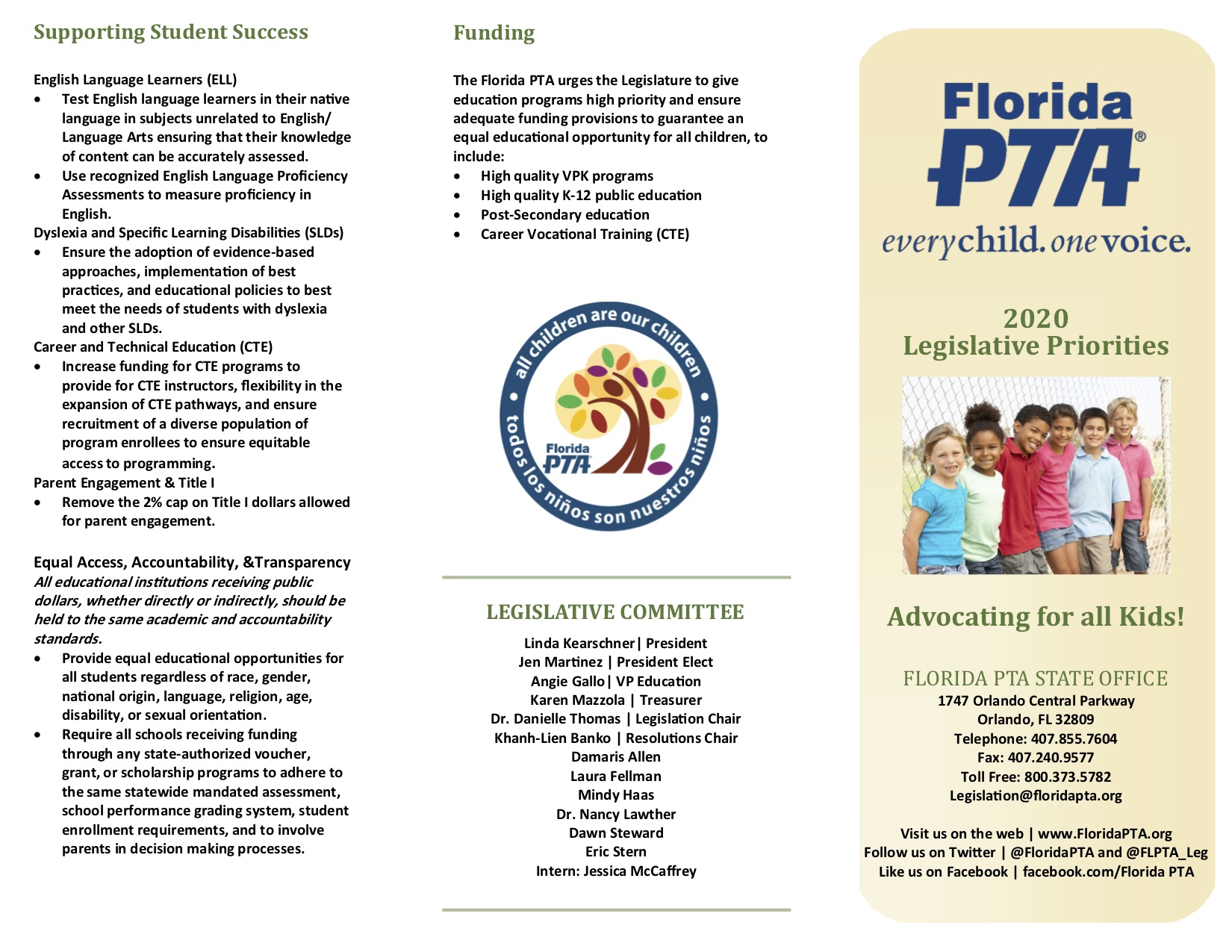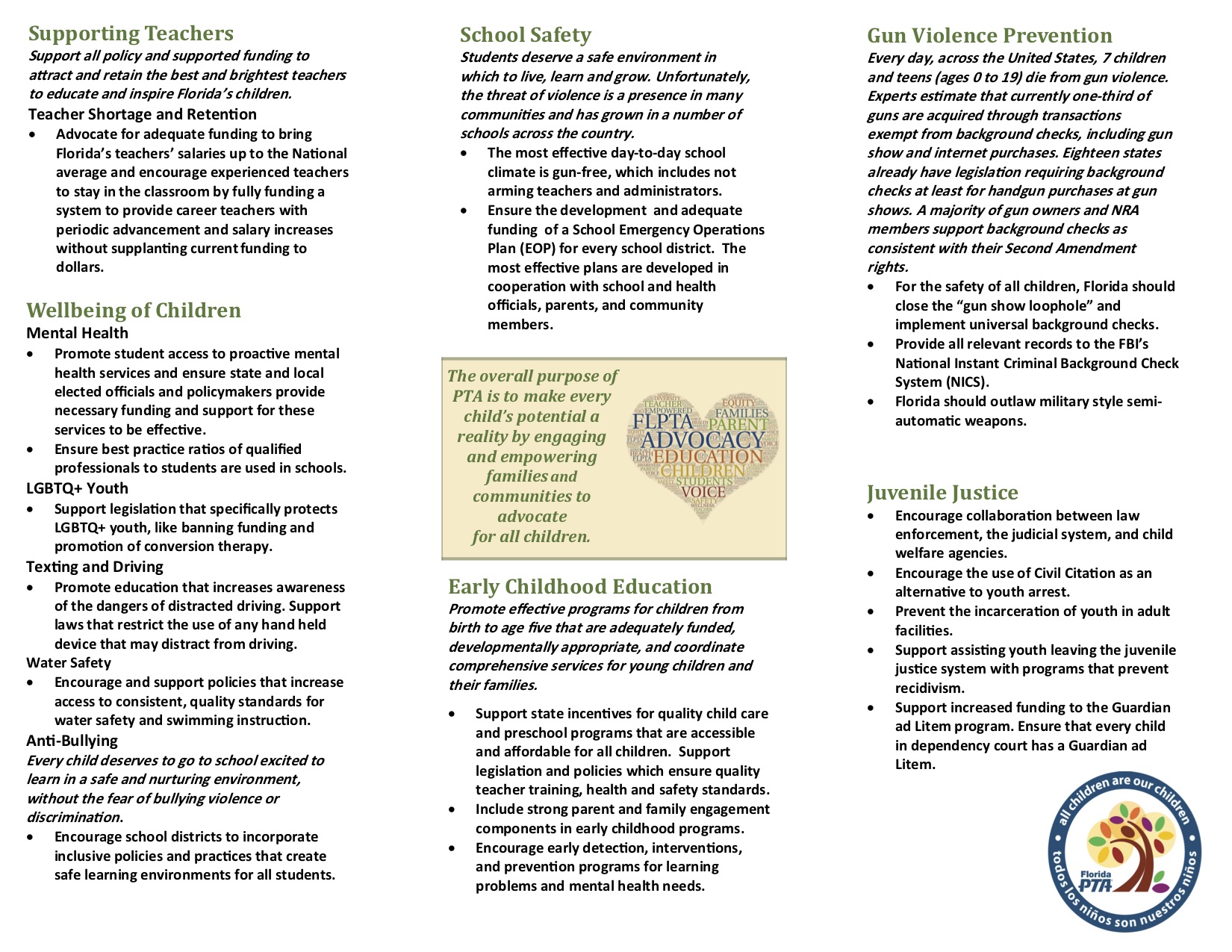 What Advocacy Looks Like!
Hillsborough County Council PTA/PTSA Advocacy 2019

Direct link to PDF file of current position statements from Florida PTA
Florida PTA Legislative Priorities Brochure