Education Funding In Florida
Education Funding In Florida-the Facts & Figures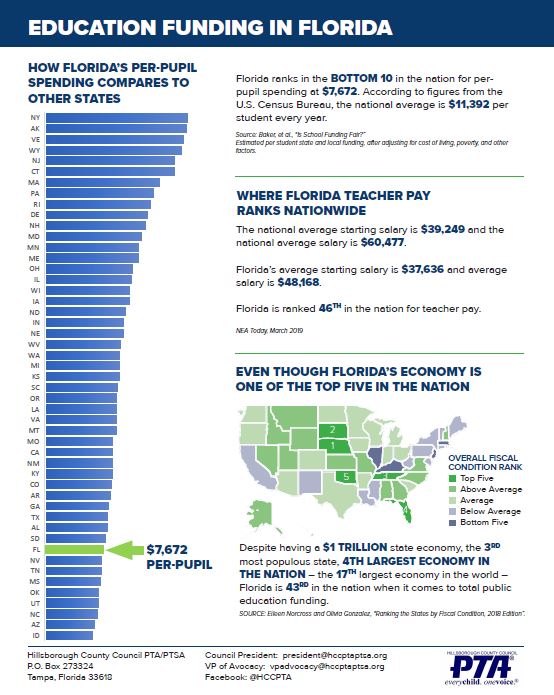 2020 Florida PTA Legislative Conference Recap
Another Florida PTA Legislative Conference is in the books – and each year it gets better. Hillsborough County had one of the largest groups of attendees with parents, grandparents, teachers, and students all coming to Tallahassee to advocate for public education.
Five students, three teachers and many parents, including one advocating for LGBTQ rights, from Hillsborough County met with legislators including: Senator Cruz, Reps. Beltran, Valdes, Hattersley, Driskell, and Hart and Rep. Toledo's aide. We discussed the need to increase teacher pay for all teachers and support staff, students subjected to too many active shooter drills, the need for changes to the Baker Act process, more screening for Dyslexia, the need for more funding for elective programs such as band and orchestra, and the importance of impact fees for a growing county like Hillsborough.
The Hillsborough County teachers expressed their frustration with their salaries. They brought letters describing their situations – including needing a second job – and pay stubs to show how little they have to live on, despite teaching in our district for many years. Their stories were very impactful to the legislators.
Legislative Conference is over but Advocacy never stops. There's still six weeks left in the legislative session and details about increasing teacher salaries, among many other bills, are still being negotiated. Make your voices heard with PTA Voter Voice:
Advocacy is not just what is happening in the capitol, it is everywhere. Every student, every school and every child needs an advocate! And some of the best advocates are our very own students!
Legislative Conference also features amazing speakers including:
This event is yearly and everyone is welcome to attend. This is a great opportunity for our students to learn more about government, advocacy and student leadership opportunities through PTA.
If you would like a member of our county council to come talk to your membership about advocacy, please email our VP of Advocacy at

[email protected]

to set something up.
Here is a great flyer to send out via email or handout at PTA meetings and events that was created by our current VP of Advocacy and current Legislative Chair.
For a printable copy, click HERE
Florida PTA Legislative Priorities Brochure
Advocacy Information
What comes to mind when you hear the word advocacy?
Did you know that PTA is the largest and oldest advocacy group for children? We are 50,000+ strong in Hillsborough County. With over 4 million members nationally we are a strong voice.
If YOU have a passion and a voice! This passion gives you the power and courage to speak up on behalf of your child, family and school. Every Child. One Voice.
How do you start advocating? Be a voice, get active. If you see an issue be it a safe walking route, bullying, any issue you see that needs to be addressed, speak up and Join your PTA.
How do I know what issues my school may need to address? Your Principal and PTA are your resources. PTA's are an active partner with our schools and know what is happening on your campus. Remember advocacy knows no time. You jump in and get it done. That's what PTA does. Remember like minds and many hands make light work. Chances are if you see a need so do others. Bring them together and decide on a plan of action.
What does a plan of action look like? It identifies the issue, what needs to be changed, how it might be changed and who can make those changes happen. Always be prepared with the facts and ideas for what might help. If you need to move up the chain, gather support along the way.
Think team. Parents, educators and others in the community all want what is best for our children.
Your PTA President, County Council PTA, Florida PTA and National PTA are there to support and help you anyway we can. We do not stand alone when advocating for our children we stand PTA Strong.
Florida PTA Current Position Statements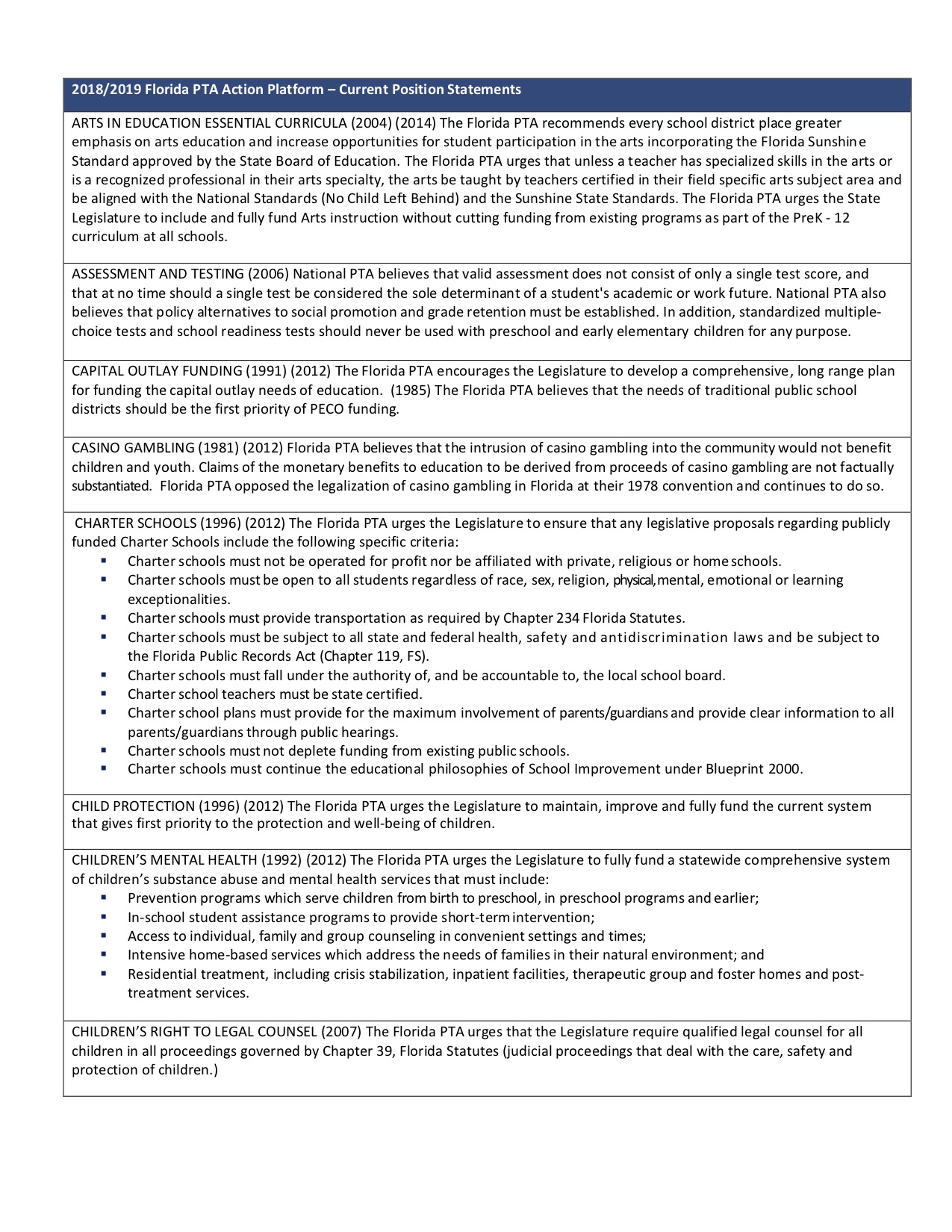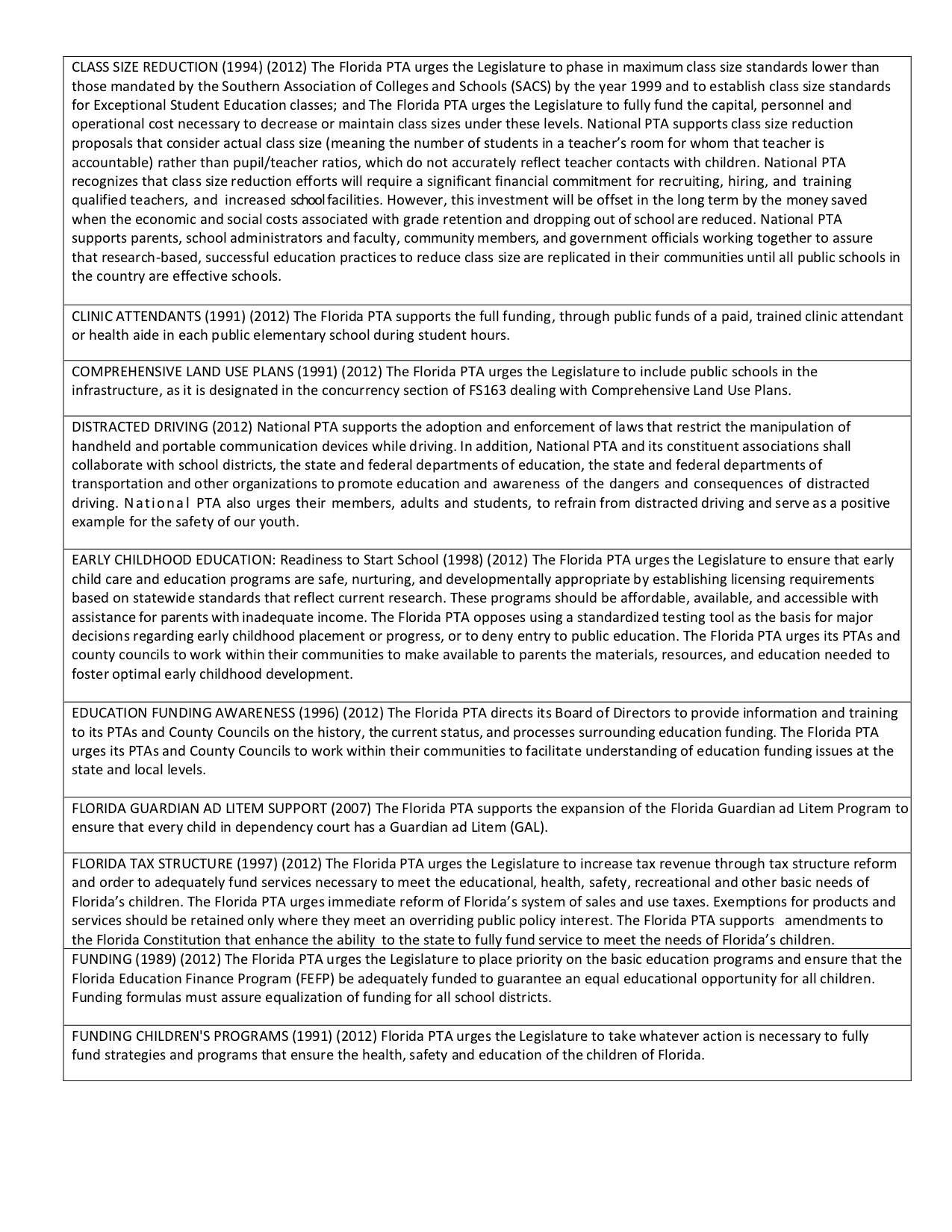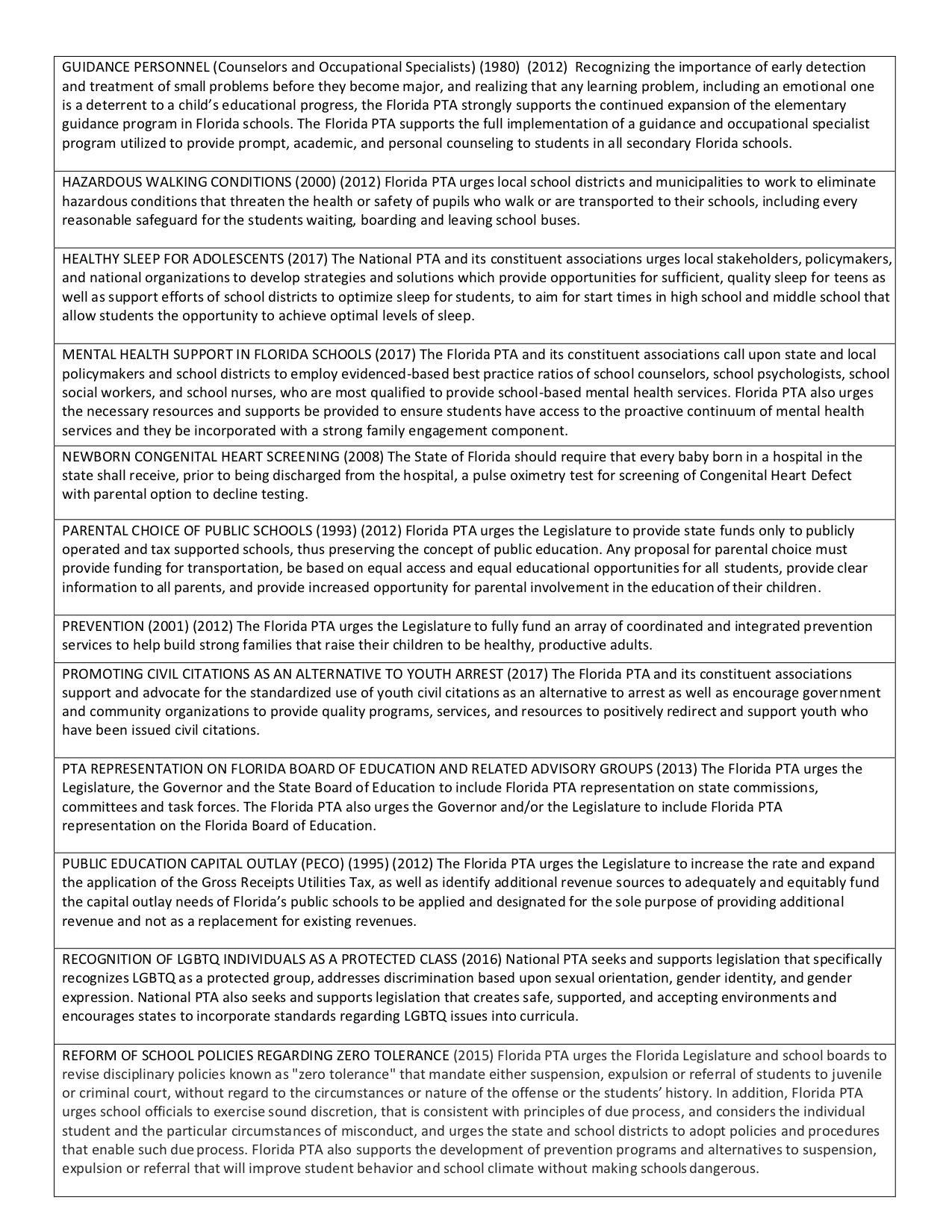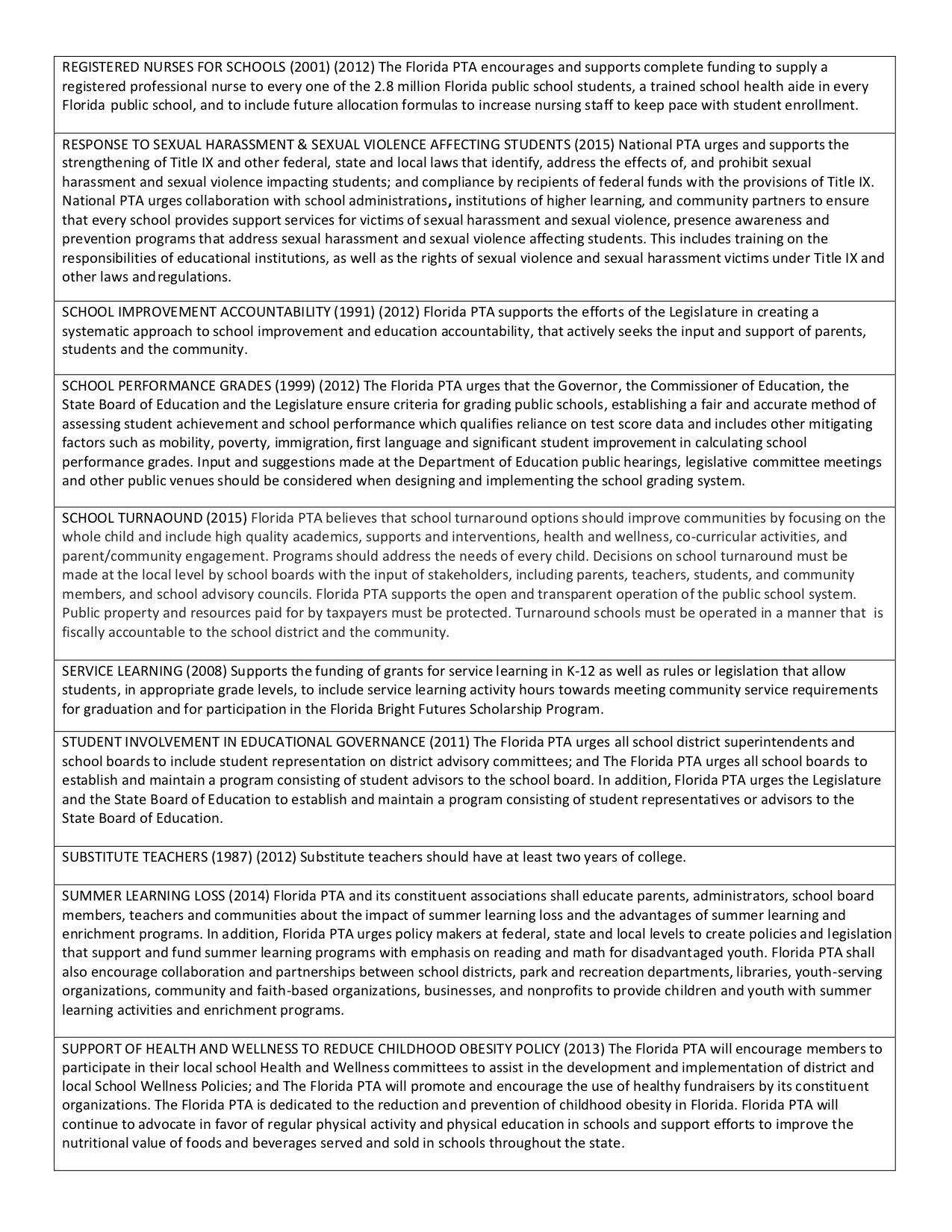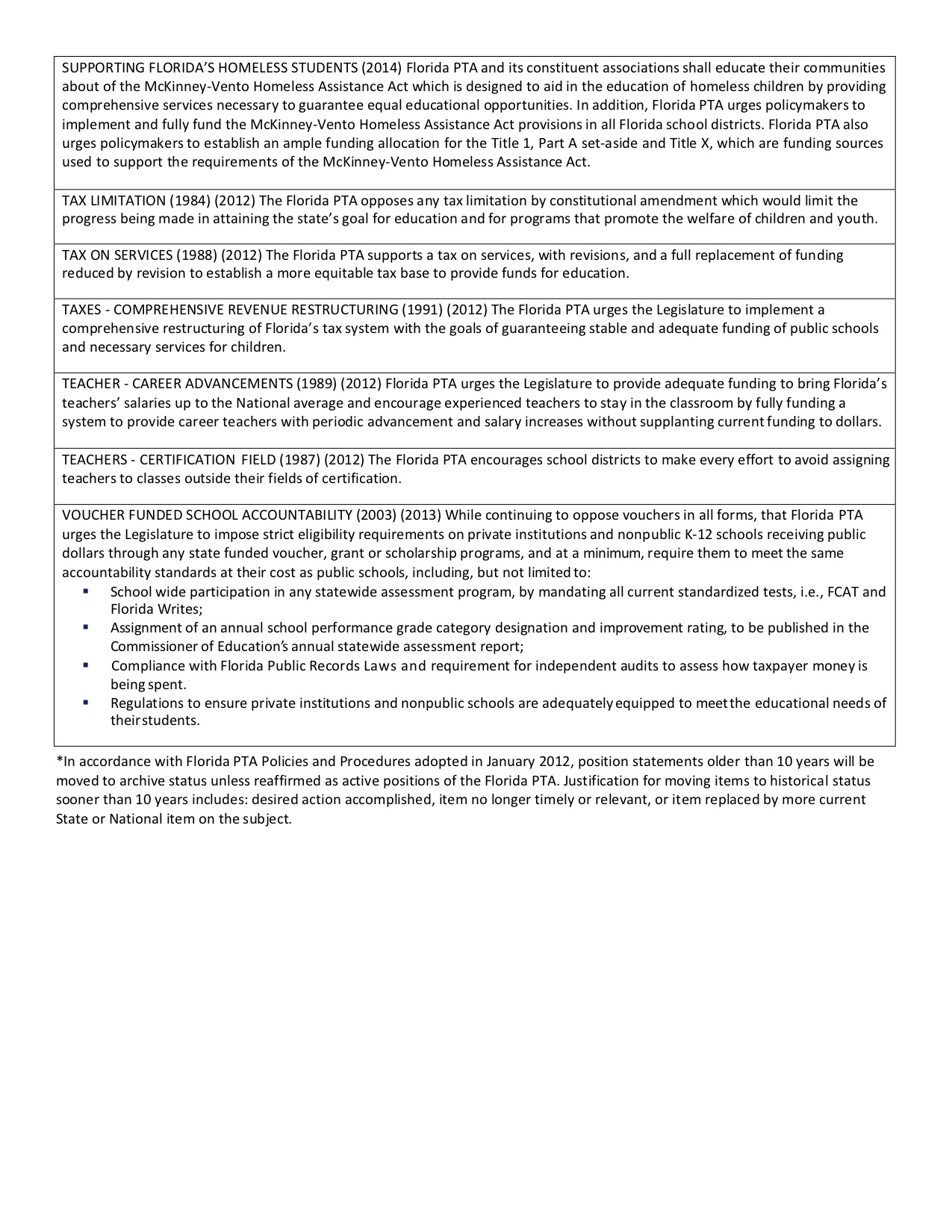 Florida PTA Legislative Priorities Brochure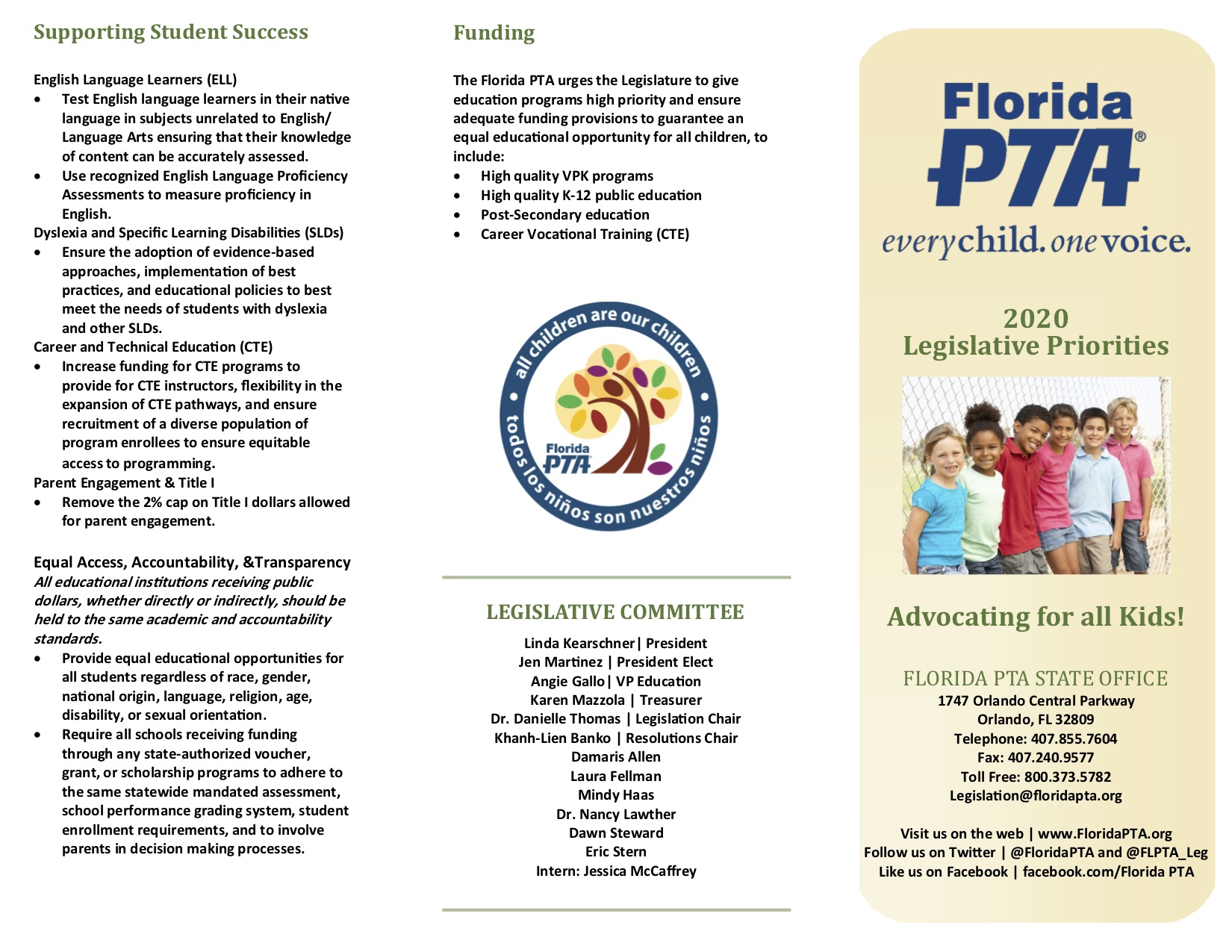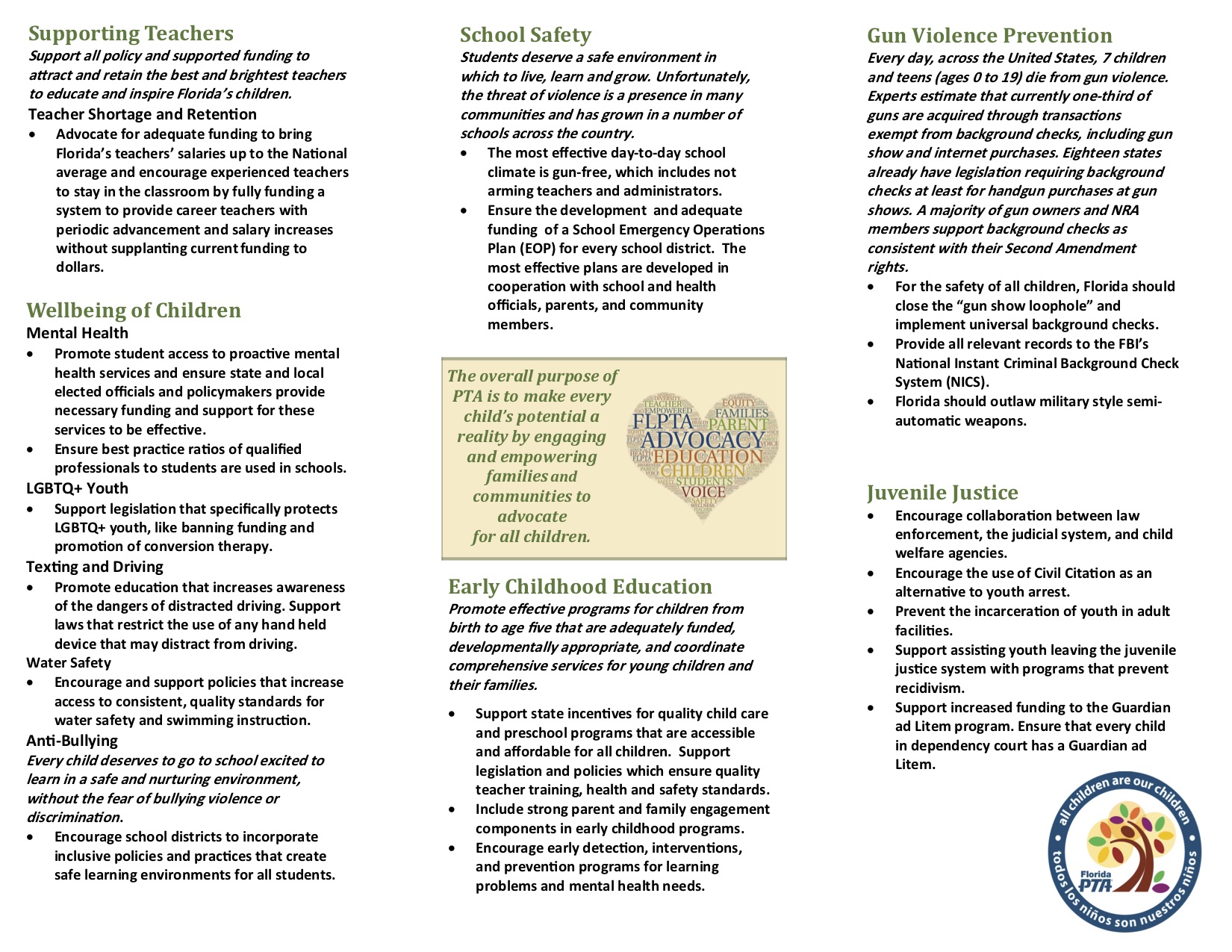 What Advocacy Looks Like!
Hillsborough County Council PTA/PTSA Advocacy 2019

Direct link to PDF file of current position statements from Florida PTA