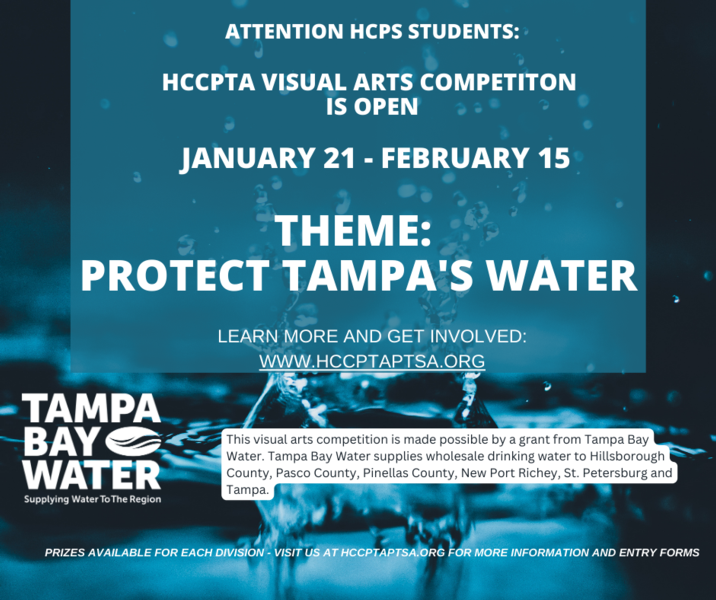 Hillsborough County Council PTA is challenging our Hillsborough County Public School students to submit their vision of how to protect source water for the Tampa Bay region's drinking water supply. The main objective of this arts competition is to raise awareness with the students of Hillsborough County in ways we can protect our water in the Tampa Bay region. We encourage our students to think of where their drinking water comes from and how they can help protect it.
Please click here to view the entry form:
All entry forms must be printed, completed, and submitted with the artist's entry. Please see the entry form for further information regarding competition requirements, submission deadline, and locations for drop off. If you have questions, please send an email to: [email protected],
IMPORTANT DATES:
JANUARY 21, 2023 – COMPETITION BEGINS
FEBRUARY 15, 2023 – FINAL DATE FOR SUBMISSION OF WORK
FEBRUARY 26, 2023 – JUDGING
DATE, TIME, AND LOCATION OF JUDGING:
FEBRUARY 26, 2023, 12:00 PM – 2:00 PM, judging will begin at 12:30 PM.
CENTENNIAL PARK IN YBOR CITY, 1800 E 8th Ave, Tampa, FL 33605
PRIZES:
PRIMARY(K-2) – 1st $75.00 / 2nd $50.00 / 3rd $25.00
INTERMEDIATE (3-5) – 1st $75.00 / 2nd $50.00 / 3rd $25.00
MIDDLE SCHOOL (6-8) – 1st $75.00 / 2nd $50.00 / 3rd $25.00
HIGH SCHOOL (9-12) – 1st $75.00 / 2nd $50.00 / 3rd $25.00
SPECIAL ARTIST – 1st $75.00 / 2nd $50.00 / 3rd $25.00


Related Files