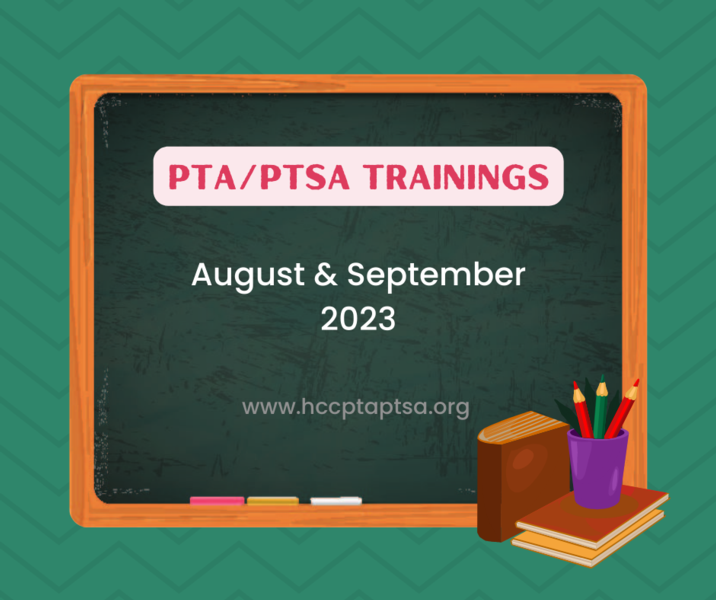 Got Questions? Third Thursday Zoom Training
This training is for local units who are either starting a new unit or are restarting a unit. You must attend this training before your restart meeting is scheduled. The focus of this training is to help you locate resources and provide critical information on the basics of PTA. The training will be held the third Tuesday of every month at 7:00PM.
NOTE: This training is held the third Thursday of every month. If you cannot attend one during this time, please email [email protected] to schedule a time.
Register HERE
Branding Your PTA
Sunday, Sep 24, 2023 from 7:00 PM to 8:00 PM via ZOOM
Join the AH-MAZING Valeria Licata to learn all about branding your PTA. Learn what it means to brand your PTA and some tips to help you improve your communications with your membership.
Register HERE
Tuesday, September 26, 2023 at 10am
Join HCCPTA ESE Chair, Jessica Meza to learn more about the ESE Chair program for local units and how it could help build more inclusive program and help support the needs of all students at your school through PTA/PTSA. Tuesday, September 26, 2023 at 10am via Zoom! Register HERE

HCCPTA Grants 101
Tuesday, September 26, 2023 at 6:30pm via ZOOM
Learn more about the grant opportunities available from National PTA and walkthrough the grant application process. National PTA grants close October 4, 2023!
Register to attend HERE
Wednesday, September 27, 2023 at 6pm via zoom!
Join HCCPTA Reflections Chair, Jenny Mun for an overview of the Reflections program and details on submitting entries that will advance to county for judging. Get ideas, ask questions and learn how to build a successful Reflections program for your students.
Register HERE
Local Unit Training
Wednesday, Sep 27, 2023 from 7:00 PM to 8:00 PM via ZOOM
The focus of this training is for President, Secretary, and Treasurer. The topics can be a review or more in depth as needed. This training will repeat the 4th Wednesday of every month.
Registration is required.
Please register HERE.