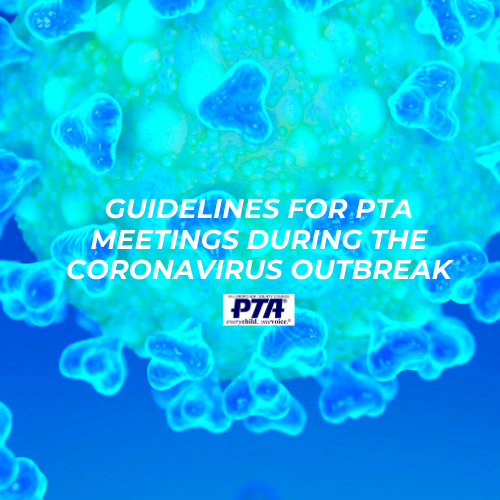 GUIDELINES FOR PTA MEETINGS DURING THE CORONAVIRUS OUTBREAK
‌
We know that many of you have concerns about how to conduct PTA meetings given the recent COVID-19 coronavirus outbreak. At Florida State PTA, we appreciate your concern about keeping all of our PTA families and members safe during this time. As we continue to monitor the situation, we have been asked what guidance we can provide regarding PTA meetings and events.
Guidance on Executive Board/Committee Meetings
Our bylaws allow for Executive Board/Committee meetings to be held via telephone or video conferencing as long as all of the members are able to hear and speak with each other. In July 2019, the Florida State PTA Board of Directors approved all local units and county councils to use telephone or video conferencing for their Executive Board/Committee Meetings. If your bylaws have an approval date on or after August 1, 2019, the electronic meeting provision is included in those updated bylaws. However, if you have not updated on or after 8/1/19, your local unit or council is covered because this was a conforming bylaws change.
Your Nominating Committee should continue to meet to produce the Slate of Officers, so that when we can meet, your PTA is ready to move forward with the annual meeting. Currently, the committee can meet in person or via electronic meeting (conference call or video conferencing).
Guidance on Association/General Meetings and Events
We strongly encourage that all unit, council and regional PTAs in Florida coordinate with state and local public health officials and school officials on whether or not to hold an in-person PTA meeting or PTA event. This will ensure that you are receiving accurate and appropriate information on how to respond to the current situation. Since the intensity of an outbreak may differ according to geographic location, your local public health officials/local school officials will be issuing guidance specific to your community.
As per our bylaws, General meetings are not allowed to be conducted via telephone or video conferencing. Given this requirement, we ask that you consider the following when determining whether or not to hold a PTA General meeting and/or a PTA Event:
1. First, consult with your local public health and school officials to determine the most up-to-date guidelines for meetings and events relating specifically to your community.
2. Second, consider postponement of the meeting or event.
From the local unit bylaws:
Article VI: Officers and Their Election
#Section
6.
Any person holding an elected or appointed position in this association shall serve for the designated term or until a successor is elected or appointed.
While we realize that for some of you extending your term of office may not be what you had anticipated, we appreciate your understanding and commitment to the children and families that we serve. Please use this additional time to prepare a comprehensive procedure book (flash drive) for your successor.
PLEASE NOTE: Bylaws cannot be suspended.
Please continue to work with your local public health officials to determine when the outbreak has ended in your local community and when the community is able to safely have meetings and events.
If you have additional questions about compliance, please reach out to
[email protected]