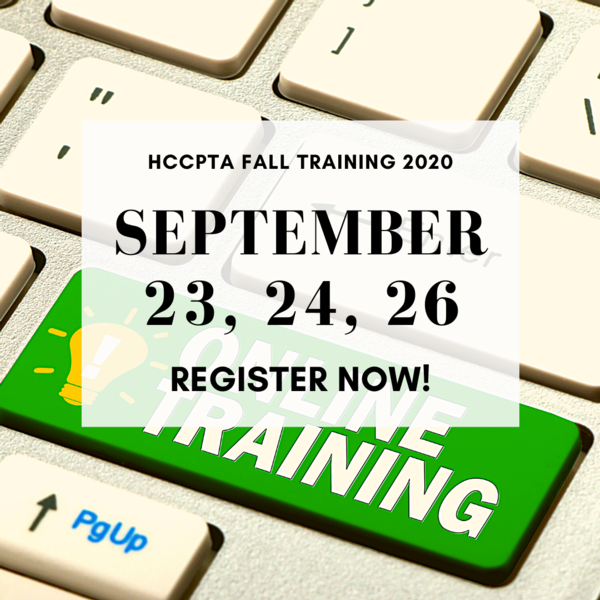 HCCPTA Fall Training 2020-2021
Choose one or more classes and make sure you register for the General Meeting on Saturday at 9am!

If you have questions, please email [email protected]
President
Treasurer
MemberHub
Reflections
Secretary
PTA 101: Getting in compliance
Fundraising for Programs, Programming for Engagement
PTA in a pandemic - an open discussion
HCCPTA - IDEA (Inclusion, Diversity, Equity, Anti-racism)
Engagement: How to hear your membership and be there for your members
Marketing your PTA: For members, business partners, and community engagement
New Year, New You: Your goals with PTA
Wednesday, September 23
7pm President Class
Hosts: Frank Reyes & Valerie Licata
---
7pm Treasurer Class
Hosts: Kimberly McDonough& Janel Smith
This treasurer class is good for new and returning treasurers to help you get your year off to a good start. There have been some changes to previous years reimbursements such as the new gift card rule that allows PTAs to purchase up to $25 value. We will go over How to create a budget, who should perform the audit and how, and submitting your taxes for the 2019/2020 school year. We will also review common errors made by treasurers by viewing expense and deposit guidelines.
---
8pm HCCPTA - IDEA (Inclusion, Diversity, Equity, and Anti-Racism Initiative)
Hosts: Ami Marie Granger Welch and Earlishia Oates
Thursday, September 24
7pm Reflections Class
Hosts: Lisa-Marie Leihy & Melinda Vasterling
REGISTRATION LINK COMING SOON!
Register in advance for this meeting:
---
7pm Secretary Class
Hosts: Ellen Lyons & Regina Gambrell
______________________________________________________________________________________
8pm PTA in a Pandemic - An Open Discussion
Hosts: Frank Reyes, moderator, entire HCCPTA executive team supporting
Programming, engagement, support, can/cant, zoom,
_______________________________________________________________________________________
Saturday, September 26
9am - PTA General Meeting
Intro, Bylaws, budget, treasurer's report/audit, what are we doing here?!?!!?!?!?!!?!?!?
_______________________________________________________________________________________
10am - PTA 101: Getting in Compliance
Hosts: Janel Smith & Frank Reyes
Congratulations, You have been elected as an Officer in your PTA, Now What? PTA 101 will go over the 5 steps to be sure your local unit is in compliance. How to register your new and returning officers so that your president will be sent the Kit of Materials to help run your PTA properly, Quick overview as to how to complete your audit. The steps to submitting your taxes. Updating your bylaws, including changing to the new template that allows online general meetings. Preparing MemberHub and how to get training on proper use for inputting members, running your store, and holding fundraisers. At the end of class there will be an open Q&A for real life experiences and how to solve the problem. New and Veteran PTA members can all benefit from this class!
---
10am - New Year, New You! Your goals with PTA
Hosts: Valerie Licata & Regina Gambrell
Looking for some inspiration to have a great year? This training and workshop will focus on your goals for a fresh new year
______________________________________________________________________________________

11am - MemberHub
Hosts: Valerie Licata & Ami Marie Granger Welch
Need to know how to build your MemberHub site? Want to learn pro tips and tools? This training will focus on MemberHub A-Z. Please submit questions ahead of time to [email protected]
---
11am - Engagement: How to hear your membership and be there for your members
Hosts: Regina Gambrell & Earlishia Oates
---
12pm - Marketing your PTA: For members, business partners, and community engagement
Hosts: Ami Marie Granger Welch
---
12pm - Fundraising for Programs, Programming for Engagement
Hosts: Valerie Licata & Frank Reyes
This training will focus on PTA's fundraising efforts and how Programming is the forefront of our mission