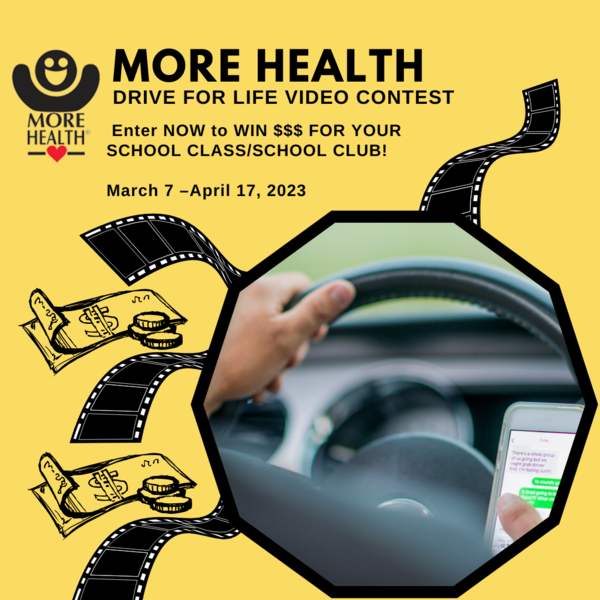 In an effort to raise awareness for teen safe driving and decrease the number of injuries and deaths in the State of Florida, MORE HEALTH, Inc. invites your High School Class/School Club to participate in the Drive for Life contest in partnership with General Motors. Participants may submit a 30-60 second video to MORE HEALTH, Inc. promoting teen safe driving. Videos can focus on distracted driving, drinking & driving, or seatbelt use.
See attached file for more details and submission form.
Drive for Life Video Contest: March 7 –April 17, 2023
? Enter your school into the contest by completing the enclosed sign-up form and email it to [email protected]
? No limit on the number of entries per school.
? It is mandatory for participants to schedule the in person or virtual MORE HEALTH Trauma Presentation, "Trauma is no Accident" in order to participate in the contest. (Once your entry form is sent in, you will receive information on how to schedule the presentation).
? Once MORE HEALTH receives the sign-up form, the photo release packet will be emailed to the School Teacher/Club Advisor. Releases must be emailed when video link is submitted.
? Videos must focus on one or all the following topics:
1. Distracted Driving
2. Drinking & Driving
3. Seatbelt Use
Videos will need to be uploaded to YouTube and the link emailed to [email protected] by midnight on April 17, 2023.
? The winning School Class/School Club video will WIN $1,000. Second place WINS $750. (Checks specifying the club/class recipient will be made payable to the school. There are no restrictions on the use of funds.)
We hope that your school will participate in the Drive for Life video contest. Together, we can build a safer Florida. If you have any questions, please contact MORE HEALTH, Laci Stokes, at [email protected] or 813-287-5032.
Related Files