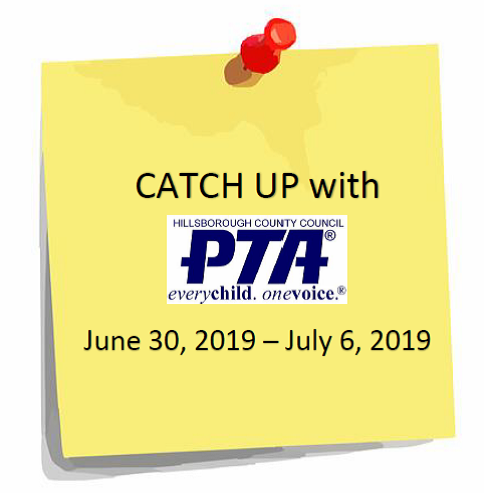 1. JUNE 30 last day of 2018-2019 PTA Fiscal Year! Click HERE for Updated Audit Form!
2. Please join us at the 2019 Florida PTA's Annual Leadership Convention, July 18 to July 21, 2019, at the Innisbrook Resort & Golf Club in Palm Harbor, FL and SUMMER COCTAILS & PUPU FRIDAY NIGHT Hosted by HCC PTA/PTSA! Register NOW !
Workshops will include topics related to:
- All officer positions
- Student Involvement
- Cultural Arts
- Diversity and Inclusion
- Leadership Development and Personal Development
Want to know EVERYTHING about the convention Download the Socio App to your smartphone. Once you have the app, search "Florida PTA Leadership Convention". Everything you need for the Convention will be right at your fingertips. Connect with others, create a personalized agenda, map out vendor visits, and even post to the event "wall". Workshop presentations will also be uploaded to each class once the workshop has concluded.

UPCOMING EVENTS:
July 18-21 - Florida PTA Leadership Convention at Innisbrook Resort & Golf Club
July 19 - 7:30-9:30pm TIKI TIME HOSTED by HCC PTA/PTSA at Innisbrook Resort & Golf Club
July 25 - 7:00am Presidents & Principals Breakfast at Bloomingdale High School
August 12 - First Day of School
THANK YOU TO OUR BUSINESS SPONSORS: